COVID-19 Testing Clinic - June 17 at CBI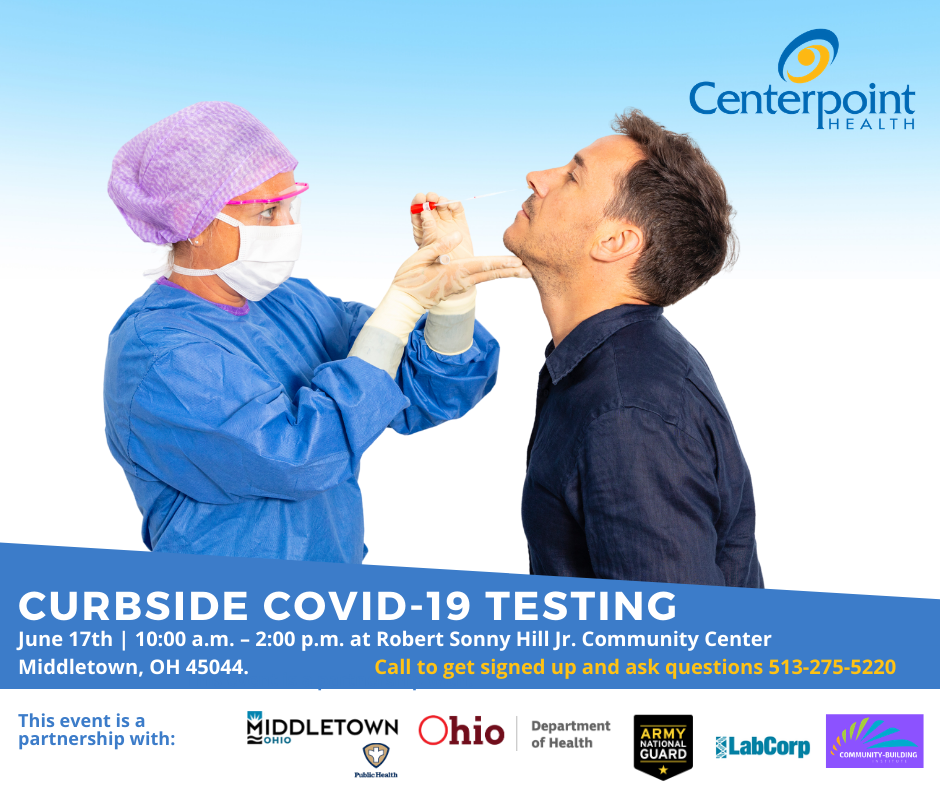 COVID-19 TESTING CLINIC FOR THE COMMUNITY

Middletown, Ohio | June 15th, 2020 – A Federally Qualified Health Center in Middletown, Ohio, will conduct a curbside COVID-19 testing clinic at Robert Sonny Hill Jr. Community Center on Wednesday, June 17th from 10:00 a.m. to 2:00 p.m.
Lorie Glenn, Chief Executive Officer of Centerpoint Health says, "We are excited to bring another opportunity for convenient testing to the community. If people have concerns about their health, or if they are worried they may have been exposed, they can come in and be tested without specific symptoms."
Patients, who must be signed up to be tested at the event, will remain in their vehicles during the entire duration of the visit. To complete the process and ask questions, people can call 513-275-5220.
"The COVID-19 Minority Health Strike Force has worked with local partners to create pop-up testing sites in communities where access to testing may be limited," said Ohio Governor Mike DeWine. "By joining with the Ohio National Guard and other local partners, we can provide tests to any Ohioan that wants one. With a better understanding of COVID-19 through increased testing, we'll be better able to prevent its spread."
Centerpoint Health has continued to provide health services to the community during the pandemic including curbside COVID-19 testing. Curbside testing is consistent with Centers for Disease Control and Prevention guidelines and allows for non-symptomatic patients.
For this event at the Community Center, Centerpoint Health partnered with the Middletown Department of Health, Ohio Department of Health, National Guard, LabCorp, and Community Building Institute.
ABOUT CENTERPOINT HEALTH
Centerpoint Health provides primary care, dental care, behavioral health, obstetrics and gynecological care, and outreach services in Butler and Warren counties. With a mission to engage patients in high quality and culturally sensitive healthcare, Centerpoint Health offers affordable services, focusing on the medically underserved, unserved, and uninsured patients.

###