Doctor's Orders: Mask+6.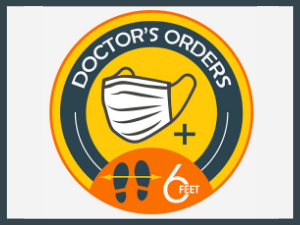 As Ohio continues with daily life during a pandemic, the Ohio Academy of Family Physicians (OAFP) and other physician and health care organizations strongly encourage everyone to remember: Doctor's Orders: Mask+6.
"We urge patients to wear a mask or face covering while providing physical distance with others when in public," said OAFP President Anna McMaster, MD. She stressed that the highly contagious novel coronavirus is thought to spread mainly by close contact from person-to-person. "Some individuals can contract COVID-19 and never have any symptoms, so they don't know they have it. The virus can spread even between individuals without symptoms. That's why the Doctor's Orders: Mask+6 campaign is so important."
The virus impacts everyone differently, as some never feel sick while for others it is deadly. In particular, older adults and those with severe underlying medical conditions are at a higher risk of developing more serious complications. In Ohio, the average age of coronavirus patients is 42, with almost 60% in the 20-49 year old range.
In addition to using face coverings and distancing, family physicians should urge patients and the public-at-large to follow all safety guidelines to prevent spread such as regular hand washing and not touching your face.