Ribbon Cutting Ceremony for Norwood SBHC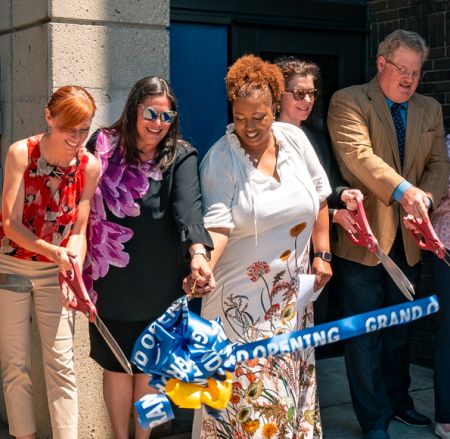 Centerpoint Health (CPH) held a ribbon cutting ceremony on June 30, 2022, to celebrate the launch of their first School-Based Health Center in Norwood, Ohio.
The Chief Executive Officer from Centerpoint Health, Lorie Glenn, and the Chief Medical Officer, Dr. Jennifer Feldman, were present to welcome the health center to the neighborhood with a special group of people which included Neil Tilow from Talbert House Health Center and CPH Board Chair, Julie DiRossi-King from the Ohio Association of Community Health Centers, Francie Wolgin from Interact for Health, and Debbie Cole, Vice-President of the School Board for Norwood City Schools.
"We are proud to work with Interact for Health and Norwood City Schools in this effort to provide access to high-quality and affordable healthcare services. Since 2021, many of the students and staff at Norwood City Schools have received healthcare services at the school-based health center. Now we are expanding our services to the community. Each patient who decides to receive services in the health center will have access to primary care, integrated behavioral health, and dental care," says Lorie Glenn, CEO at Centerpoint Health.
"For years, families in Norwood experienced barriers to getting the health care that they need, including struggles with cost and transportation," said Kate Schroder, President and CEO of Interact for Health. "The partnership between Norwood City School District and Centerpoint Health has helped to improve access to medical, dental and behavioral health care for school children and school staff since it opened in May 2021. We're excited to support our partners as they expand the services of the school-based health center and can now offer care to the broader Norwood community."
"I am a believer in the power of partnerships to support academic achievement and speed progress," stated Brandon Atwood, Norwood City School District Board President. "Students perform better when they show up healthy and ready to learn."
"I would like to thank Interact for Health for the planning grant and for developing the partnerships needed, such as the one with Delta Dental, to make this school-based health center a reality. Interact for Health supported us throughout the entire process. We now have the finished product: a state-of-the-art health center on our high school campus serving the entire district and community," shared Mary Ronan, Superintendent.
The Centerpoint Norwood SBHC will be open Mondays through Fridays and is located at 2020 Sherman Ave, Suite 202, in Norwood, Ohio. For more information, including hours of operation, please call 513-653-0477 or visit www.centerpointhealth.org.